Official confirmed update.
475 On Board
6 Dead (3 male student, 2 female students, 1 female crew member)
179 Rescued
290 Unaccounted/Missing
(ETA) Update:
As of 11:00AM the toll is: 9 (4 unidentified) dead, 287 missing, 179 rescued, 475 were on board. 

The ferry appears to have sunk deeper: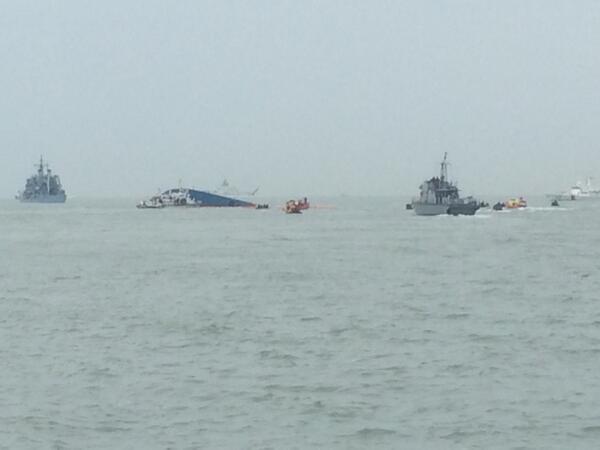 Coast Guard says Sewol ferry was out of its normal routine. (Yonhap)
Current weather, foggy, expecting 10-40 mm of rain: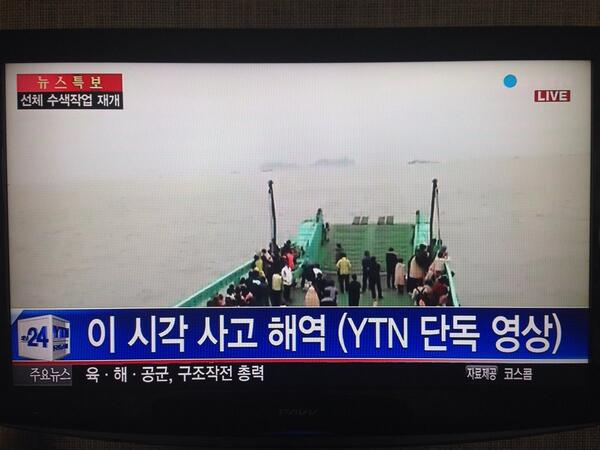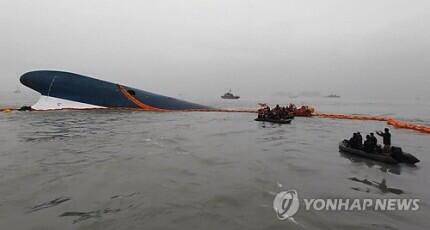 Cranes are en route to take the ferry out of the water.
555 divers trying to search Sewol in vain amid strong current/low visibility (20cm). Giant cranes to lift the ship to arrive only tomorrow.
Coast guards attempting their rescue efforts this morning: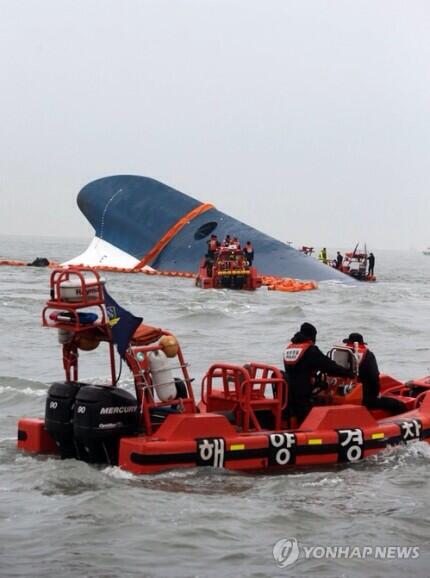 There is currently no ID of the captain or a statement from him or the crew.

We are still unaware if all the passengers are still trapped in the boat or if any were able to escape and are wading out in the waters.
The US Navy is now joining efforts in search of more passengers.


Awaiting further word from officials on the matter.
Very small update

Toll is the same.

A video taken by a survivor while on the Sewol Ferry as it was tilted: https://www.youtube.com/watch?v=xxc8msCV-Ps&feature=youtu.be

Messages left on a chalk board in Danwon High School for passengers to come back safely:

Cars parked outside of Danwon High School:

Somber mood of the auditorium of Danwon High School as friends and family await news: https://vine.co/v/M17wZgudVpV

Fishery ship captain that saved 27 passengers (Yonhap).
(Note: Not the captain of Sewol Ferry)
MAJOR UPDATE (10:30AM KST):
Current toll: 475 on board, 179 rescued, 26 dead, 270 missing.
To put things into perspective of Danwon High School: 75 rescued, 12 dead, 238 unaccounted. 
Search and Rescue efforts have stopped again due to severe weather conditions. Will restart at 1PM.
The reason why the ship capsized remains unconfirmed although reports suggest it might have hit a submerged rock (Yonhap).
Crew member Oh Yong-seok, who escaped with several others including the captain, has told the Associated Press that rescue efforts were hampered by the ferry's severe tilt. "We couldn't even move one step. The slope was too big," he said.
YTN reports that it'll take about a month to lift up the sunken Sewol Ferry by using cranes & other machines
Crew member Oh Yong-seok, who escaped with several others including the captain, has told the Associated Press that rescue efforts were hampe…
"Very Sorry, Nothing to say now" response of captain to coastguard investigating him: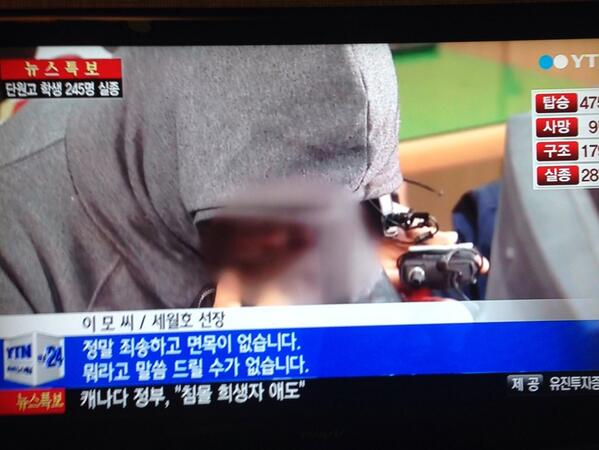 One S.Korea navy ship crew member who has worked in the rescue operation is now under unconscious state.
Local police stated some messages claiming "We're still alive" are mostly fake.
"Madam President, please save my child." Parents are holding South Korean President and crying (Newsis):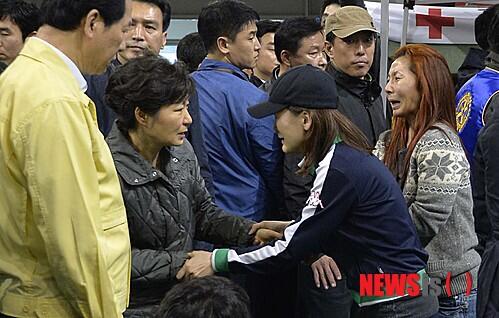 "We're inside the ship" - text messages sent from the sinking South Korean ferry http://www.bbc.com/news/world-asia-27045924
The blue line stands for Sewol ferries normal route, but JTBC expects Sewol ignored that and moved onto the path dictated by the red line: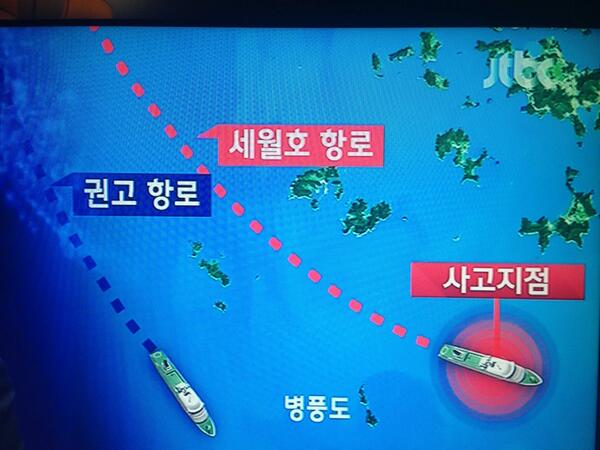 South Korea coast guard resumed its rescue operation. Unmanned Robot to join to have a better findings of people.
All major TV channels here in South Korea have decided to halt the regular broadcast of dramas and entertainment programs temporarily.
South Korean LA Dogers pitcher, Ryu HyunJin's (@HyunJinRyu99) message - 모두들 무사히 가족품으로 돌아갔으면 좋겠네요 … 모두들 힘내세요. Remembering the Sewol disaster.
LA Dogers message - paying respect to those affected by the sinking of the Sewol ferry in South Korea: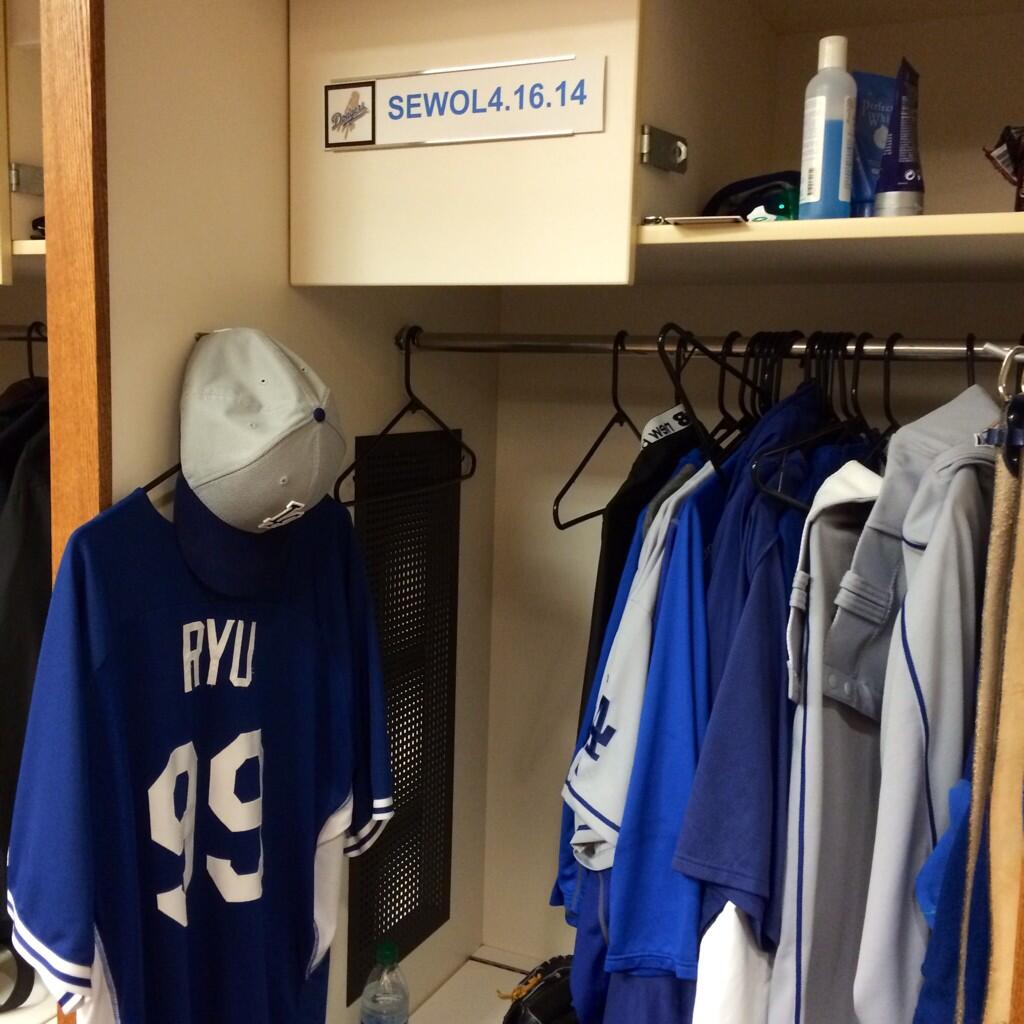 "You didn't replied my text, Please reply ASAP, I miss you" A friend of Sewol Passenger message (via: 조재환):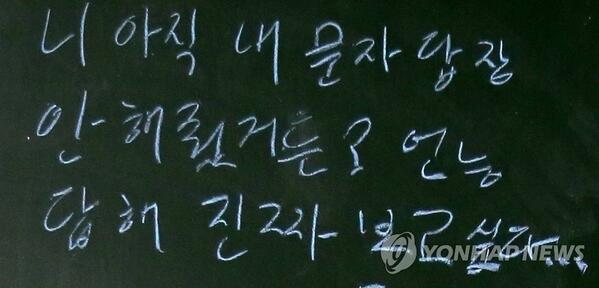 YTN - People staying at Jindo Gymnasium are showing moving up to the podium and showing their anger.
3 out of 4 cranes now arrived at ferry rescue scene. One Crane about to arrive 4pm KST.
Picture shows family members of Sewol passengers waiting for their loved ones at port: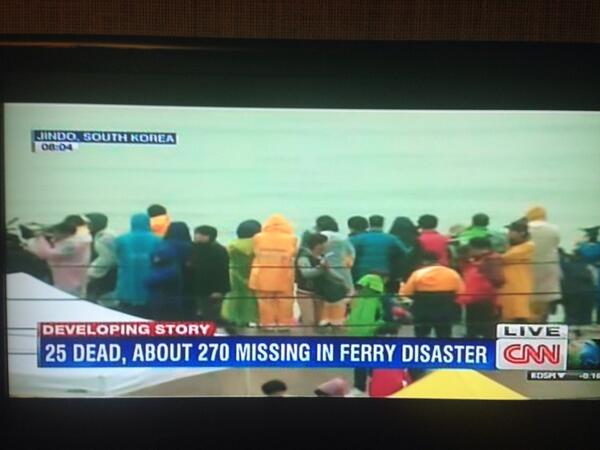 Korean media is commonly saying: "Still, we have a little bit of hope".
16-year-old Russian Girl is still missing.
9am KST look of Jindo Gymnasium. Family Members are saying "We cannot trust the government" (YTN):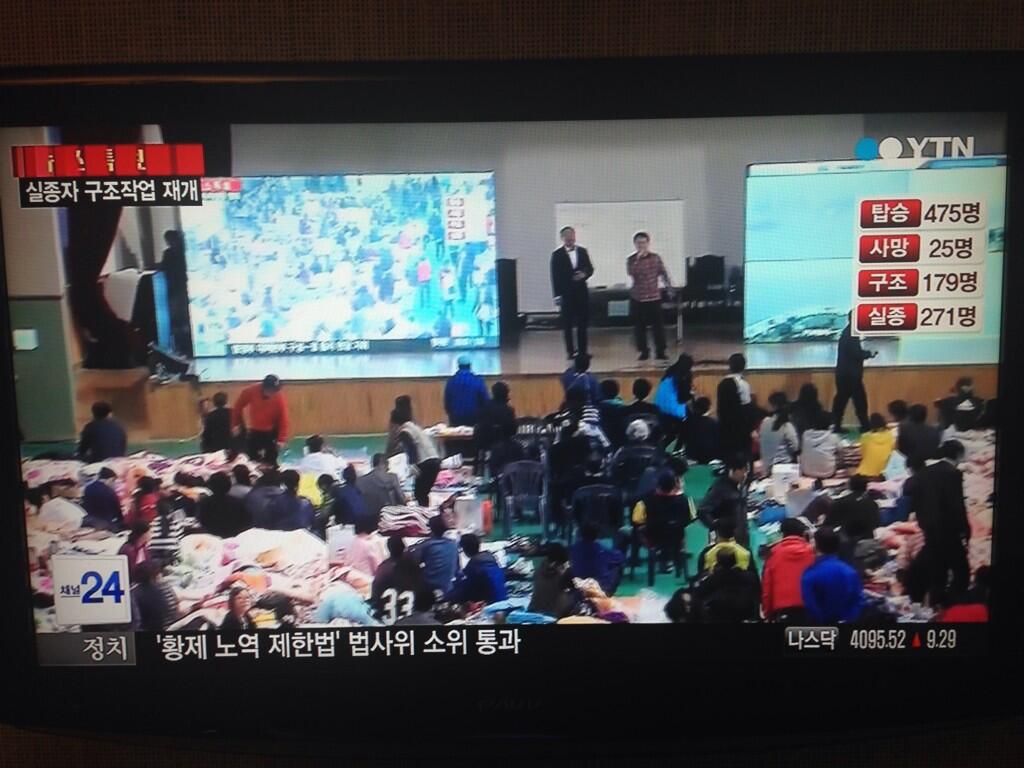 Very emotional scene in Jindo. Parents screaming and crying "captain, come out" and "government help us" (via Kyung Lah):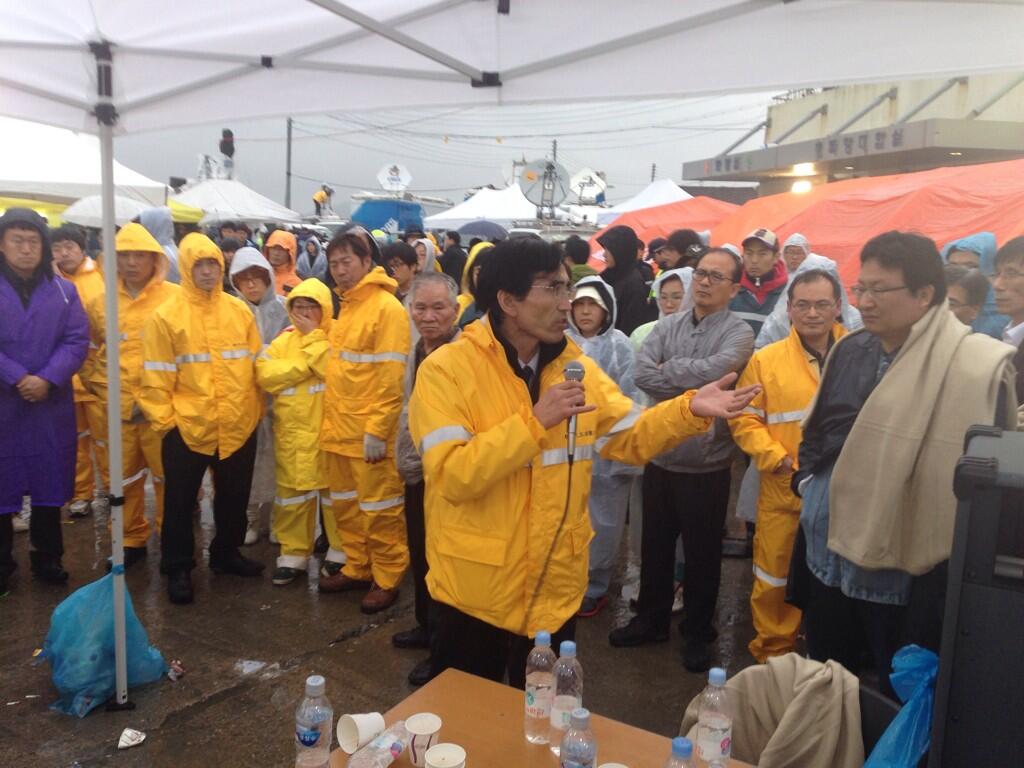 South Korea ferry: Messages from a sinking ship
http://www.bbc.com/news/world-asia-27045924
Hospitalized Kwon (6) brought back to Gym for Park. I believe she should have gone to the traumatized child: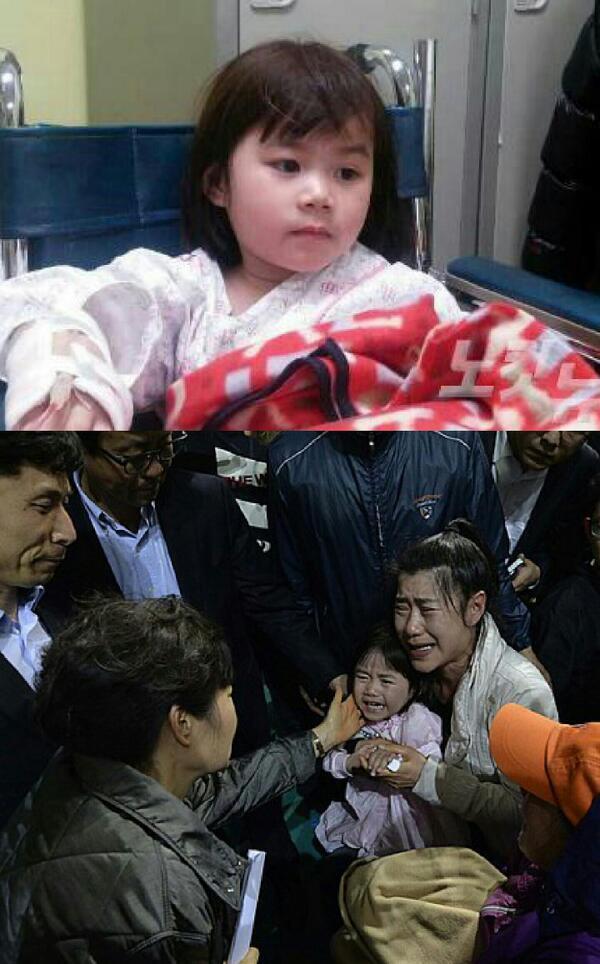 For those of you who do not know young Kwon's story: This young girl and her family were moving to Jeju via boat because airfare was too expensive. Although she was rescued, her parents are missing. She was hospitalized then brought back for a meet/greet with President. Her brother is still missing and is currently the only survivor of her family. 
(10:45AM) Update: Rescuers have started to inject oxygen into the ship again.

The ferry is completely/nearly completely submerged.

(11:25AM) UPDATE: THE SHIP HAS BEEN ENTERED.
(ETA: Misinformation between government and coastguard; NOT been entered.)
YTN live shot : Divers are now preparing to go under the water for Sewol rescue: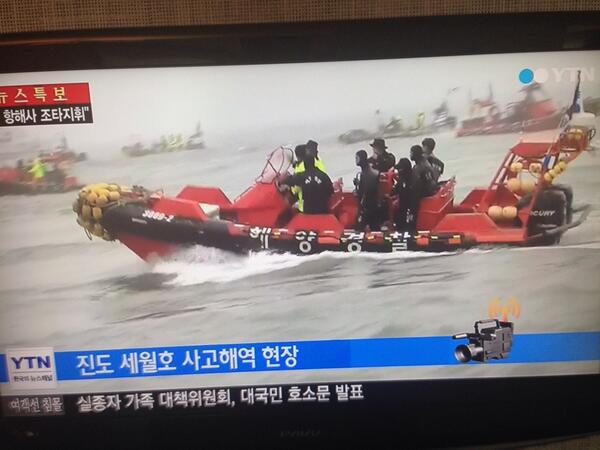 (12:37PM) Update: The ferry is now fully submerged.
Current toll: 475 on board, 179 rescued, 27 dead, 269 missing.
(12:50PM) Update: Death toll is now 28. 268 missing.
POSSIBLE COLLAPSE OF AIR POCKETS.
(1:10PM) Update: Many are saying unethical reporting is happening where reporters are targeting children or going too far pushing the issue.
-Please stop, it is the time to inform, not inflict more harm upon others.
~~~~~~~~~~~~~~~~~~~~~~~
Write #PrayForSouthKorea and share a message in your own words.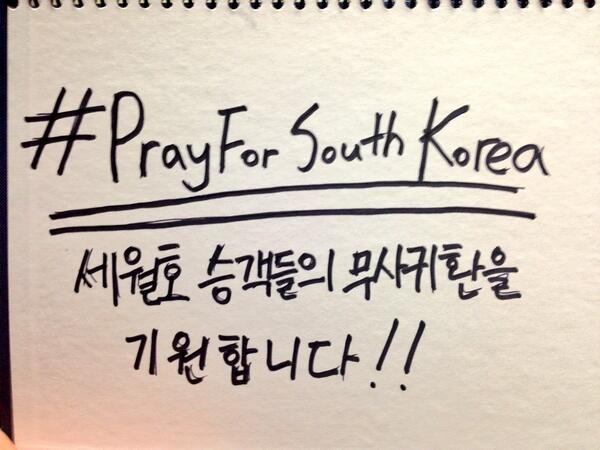 (#PrayForSouthKorea //// Wish all passengers of Sewol come back soon credit 조재환)
[!!] LOCAL [!!] : You can mail all donations to the following address:
전라남도 진도군 진도읍 철마길 25,진도군청 주민복지과



(Credit to 조재환 for the pictures that do belong to him.)